News and Events
SAVE THE DATE!
IAH World Groundwater Congress 2024 Interacting Groundwater will take place in Davos, Switzerland on September 8-13th,2024. The Congress is organized by The Swiss Society of Hydrogeology (SSH) and the Centre for Hydrogeology and Geothermics of the University of Neuchâtel (CHYN).
CMTW members are encouraged to choose one two from the following topics to prepare a session for CMTW:
Stay young and healthy: Role and properties of Mineral and Thermal waters for the today's society
Natural Mineral water versus designed drinking waters – Pure and Healthy – Trends, Aspects and Demands of current Society
Hydrogeology and geochemistry of mineral and thermal waters
Origin and properties of Mineral and thermal waters as characterized by Isotope and hydrochemical methods
Health and balneological aspects of mineral and Thermal water
Insights to processes of active tectonics as evidenced by mineral and thermal water
The call for abstracts will open on December 15th, 2023.
If you are a young scientist you can also present your study within "YOUR THESIS IN 180s" challenge.
More information about the Congress can be found at: https://www.iah2024davos.org/
---
THE SUMMER SCHOOL ADVANCES IN DEVELOPING GEOTHERMAL RESOURCES FOR HEATING, COOLING AND ELECTRICITY PRODUCTION
The summer school Advances in developing geothermal resources for heating, cooling and electricity production is organized in Ljubljana, Slovenia on 3-8/07/2023.
The plan is that this year the training is 6 days and will be held in Slovenia only, with one day field trip and other days with lectures and student projects. Some scholarships will be available to cover part of the accommodation and travel costs.
Flyer 1 Geothermal summer school Ljubljana 2023
---
IAH Annual Congress 2024 will take place in Davos, Switzerland which is worldwide known for the World Economic Forum.
The Congress will take place on either the week of September 1st – 6th or September 8th – 13th, 2024.
The organizers will structure the program along the different dimensions of "interacting groundwater". The tentative topics and sessions are:
Groundwater interacting in the water cycle
Groundwater interacting with other domains
Interacting stakeholders and institutions
Interacting methodologies in research and management
Apart from scientific sessions some more events are planned such as keynote debates, field trips, site visits and networking events.
More information soon.
---
The 3rd International Multidisciplinary Conference on Mineral and Thermal Waters, MinWat2020 was held in Caserta (Italy) from 26th to 30th, 2022.
During the conference almost 100 researchers, professionals and businessmen from 26 countries shared their knowledge, technology and experience. A thematic special issue on Environmental Geochemistry and Health, a Springer journal, collecting 20 articles was published (https://link.springer.com/journal/10653/volumes-and-issues/44-7).
The meeting of the IAH CMTW was held in Casserta on June 28th, 2022.
More information and photos from the conference:
---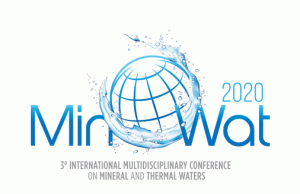 Caserta, Italy from 29th March to 2th April 2020
MinWat 2020 – International Multidisciplinary Conference on Mineral  and Thermal Waters
Second announcment of the conference
Official website: www.minwatitaly2020.org
---
Pyatigorsk, Russia from 2th to 5th October 2019
IAH – CMTW Meeting 2019
Mineral waters:origin and variety of the chemical types
Second circular and preliminary program
---
Memoire of Arpad Lorberer
His main research area was to describe and help utilizing the karst and thermal aquifers of the country. His knowledge regarding Geological and Hydrogeological data of more than a thousand thermal wells become legendary. He become one of the most successful and respected old-school geothermal geologist of Hungary.
He was a founding member representing Hungary in the Mineral and Thermal Waters Committee of IAH since 1996, attended most of their meetings and organised a conference in Hungary as well.
More information in Arpad Lorberer Orbituary
---
Memoire of Professor Jan Dowgiałło
For many years prof. Jan Dowgiałło was an active member of the International Association of Hydrogeologists, co-founder and chairman of the Commission on Thermal and Mineral Waters. For his achievements, he was awarded the Honorary Membership of the IAH.
Prof. Dowgiałło was active until his last days, working on scientific projects, mentoring students, planning new activities. He passed away on the 15th of May 2019 at the age of 87. R.I.P.
More information in Memoire of Professor Jan Dowgiałło